508-475-5676
Inpatient Drug And Alcohol Rehab Near Boston MA
If you are searching for a safe facility to focus on prevailing over substance use, turn to Evolve Recovery Center. Our accredited alcohol and drug rehab facility near Boston MA cares for individuals who are in need of intensive inpatient therapy. Our center is your source for evidence-based care in a peaceful locale so you may concentrate on a rewarding recovery. We combine customized treatment strategies with well-appointed resident and community areas to assist you in working towards long-lasting sobriety and a better life.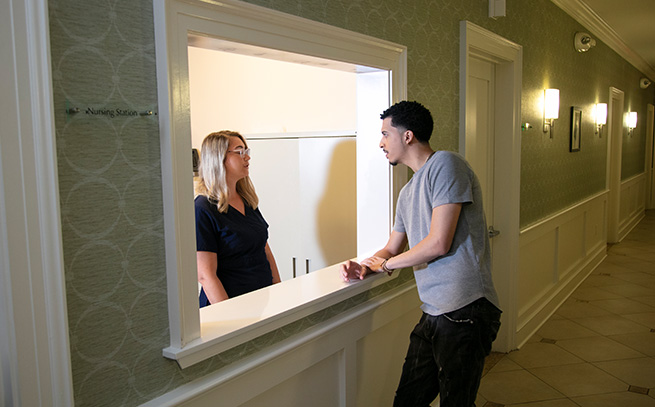 Inpatient residential care allows you to learn the tactics for enduring recovery in a nurturing and inclusive environment. Our credentialed clinicians design evidence-based therapy approaches to meet your exact requirements, so it doesn't matter whether you've had treatment for substance use previously or you're considering a rehab center for the first time. Going to both individual and group therapy, you'll gain a better understanding of your root reasons for addiction, effectual coping devices, and ways to deal with any co-occurring behavior disorders. Our objective is to help you develop the tools you need to have to promote a healthy and sober manner of living.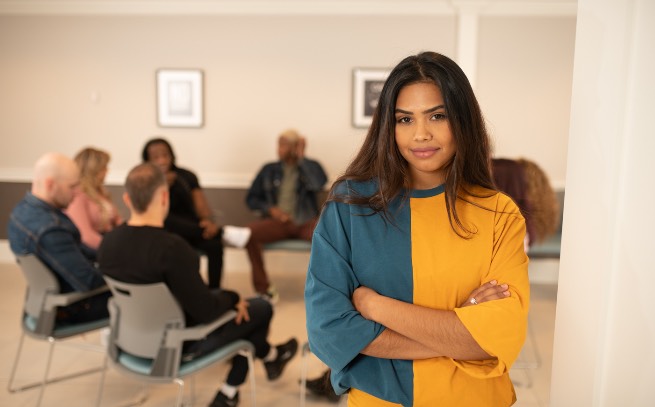 What will a normal day look like at Evolve? Every day is guided by a carefully designed plan of:
Meditation in the morning

Goal setting meetings

Group therapy

Around six hours of group therapy

12-step or SMART Recovery discussions

Peer support

Aftercare planning
Admissions Process At Evolve Recovery Center
After you reach out to ask about our alcohol or drug addiction treatment near Boston, we have the ability to admit you by the subsequent day. As you get here, you'll be administered a comprehensive psychological and medical evaluation and a urine drug screen. Then we'll check you into one of our cozy bedrooms and talk about your individualized treatment program.
We're happy to lend a hand in making enrolling less stressful. We will organize free transportation from your home or the airport when you don't have a ride. We also advise you on insurance verification, inquiries about your policy| and expense, and paperwork for short-term leave benefits.
Keeping You Comfortable At Our Drug And Alcohol Rehab Facility In Boston
We understand the more relaxed you are, the more intent you will be on recovery. Evolve's modern semi-private rooms and community spaces allow you to feel at peace while you are here. Every room is comfortably furnished and with its own bath and TV. Nearly all rooms will be co-occupied with an assigned roommate, but private quarters are possible per prior request.
We even have numerous possibilities for leisure activities. Relax and catch a show or play games in our common room. Get a bit of fresh air on our patio. You can even continue your normal workout at our well-appointed gym. We also have an on-site chef to create all meals and snacks, and we will gladly accommodate any dietary restrictions.
Including Families For Addiction Recovery Success
We know that you are more likely to be successful in rehab when you are supported by family. This is the reason why we encourage the involvement of family members at the beginning and offer drug and alcohol rehab information for families in Boston MA. Our supportive staff will sustain steady communications with those who care about you and can facilitate calls for residents. We also ask your family to participate in group therapy sessions to understand how to aid the recovery effort.
Insights Into Evolve Recovery Center Near Boston MA
Praesum Healthcare runs Evolve Recovery Center Boston. We opened our original location in 2004 with the understanding that individuals grappling with substance addictions are deserving of caring, customized treatment. From this beginning, we have initiated a "continuum of care" that features dozens of substance use and behavioral treatment centers to assist you no matter where you may be on your journey to recovery.
A reputable residential inpatient facility, Evolve Recovery Center Boston offers a structured approach in a peaceful environment to aid you in achieving long-lasting sobriety. We hold national accreditations with leading organizations, and our licensed staff of counselors, nurses, and behavioral professionals offer skilled 24-hour care. Everything we do is concentrated on accommodating your unique requirements and helping you accomplish your recovery aspirations.
Evolve Is Standing By To Assist You In Boston
If you or a loved one are in need of alcohol or drug rehab near Boston, contact 508-475-5676 or fill out the form on this page for immediate help. We're standing by 24/7, 365 days of the year. All calls are of no charge to you and confidential. Get help today.